Episode 50
Ameet Khabra is the Founder of Hop Skip Media, a Google Ads agency helping small businesses improve ROI using Google Ads.
Ameet has spent the last decade figuring out why people do what they do online, what prompts them to take action, and how to use this insight to make marketing work better.
Today she uses that experience to design dazzling campaign strategies for our clients and teach future generations of PPC pros at the university level.
She's obsessed with performance and shares practical insights and tips to help you improve your Google Ads results.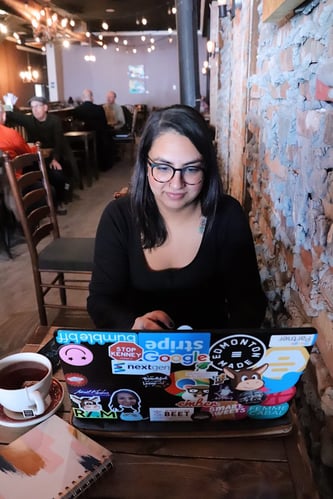 Topics Discussed
How she became a Google Ads Ambassador in Canada
What is PPC?
Why should businesses use it?
Keys to success in PPC Ads?
Broad match vs phrase match
Negative keywords
Mistakes to Avoid?
How fast can a business see results?
Most underutilized tool in Google Adwords by small businesses – Search Query Report
Wants to improve ROI on Google Ads


Ameet's Free Gift to MindShift Podcast Listeners
30 Ways to Improve ROI with Google Ads Checklist
Connect with Ameet
Rate, Review, & Subscribe on Apple Podcasts
Please consider subscribing, leaving a rating, and review.
Also, if you haven't done so already, join the free MindShift Community to connect with other like-minded people