Episode 30
Unfortunately, leaders don't get to panic.
Your team, your family, your employees, and the community are watching you.
They rely on you for answers and direction because you are their leader.
As leaders in our families and businesses, we may not always know the way forward.
I believe it's on us to do four critical things to show leadership in the midst of fear.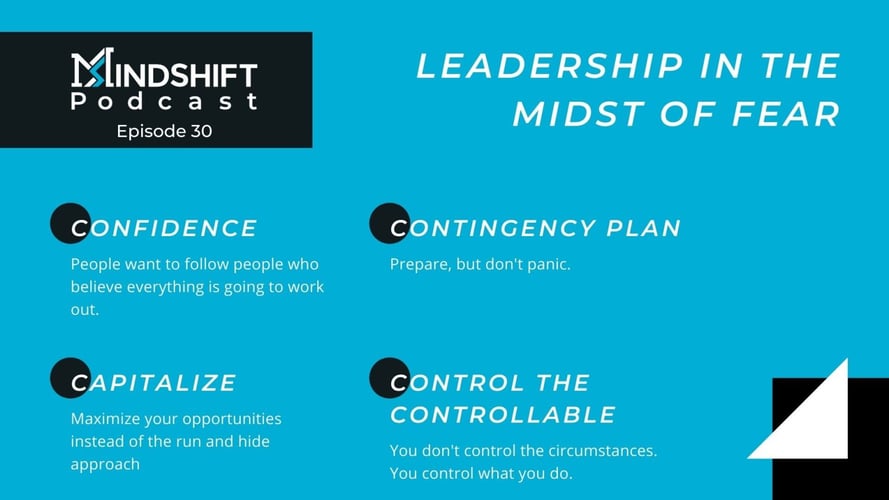 4 Ways to
Lead in The Midst of Fear
1. CONFIDENCE
The number one thing that leaders must do in times where there's uncertainty, unrest, adversity, and fear is to remain confident.
People are looking at you as a leader.
They are counting on you to make good decisions. They're counting on you to make wise decisions.
They're not necessarily counting on you to make the most important decision that's going to save the day.
They're counting on us so that they can follow you through with the highest probability that things are going to be okay.
And so today, whether we're leading businesses or companies or our families, it's critically important that we as leaders are willing to step into the information and carve out a pathway that leaves your people very confident.
2. CONTINGENCY PLANS
I think contingency plans are critical, right?
You can't necessarily live in worst-case scenarios, which I think is one of the problems a lot of people fall into, they think the worst thing is going to happen.
It's okay to recognize and acknowledge the worst thing that can happen. But you can't live there because you can't get beyond fear.
If you're living in a worst-case scenario mindset, the best thing you can do is to evaluate the circumstances, evaluate the possible outcomes and contingency plans, and be really defined about what needs to happen if the inevitable happens.
Your job is to have a well-defined contingency plan and communicate that to your family, to your business, to your clients, to everyone that is looking to you for leadership.
3. CAPITALIZE
Even in times of fear, there's an opportunity to capitalize on areas of opportunity that we may have missed in the past.
Sometimes when we find ourselves in adversity adversities.
There's an opportunity to capitalize on things we may have put to the side or put on the backburner in the past.
A lot of times you get situations that you didn't expect that uncover things that you could have been planning for or preparing for.
I co-own a digital marketing agency, called Yokel Local.
Over the last 10 years, we've been preaching to business owners that they needed to build an online presence.
Now here we are sitting in a situation where maybe human contact interaction may be limited or prohibited for some period of time, and we're going to see a lot of businesses now try to scramble to get their digital presence put together.
This is a top to opportunistically fill the gaps in the voids in the things that you may have ignored in the past.
4. CONTROL THE CONTROLLABLE
At the end of the day, you can only control the controllable.
I've said this for decades now.
The best way to handle stress, the best way to handle fear, the best way to handle uncertainty is to identify those things that you absolutely control and are in your power, then execute on those things.
You can't tell what's going to happen.
You don't know what the government's going to do.
You don't know what the business world is going to do.
You don't know what was going to happen economically.
Your job is to control the controllable.
If you do that, you're going to put yourself in as best a place as you could possibly be given the circumstances.
Did you like today's show?
If so, be sure to subscribe to be notified so you never miss a show. If you had an a-ha moment, we'd love to hear about it.
Connect with Darrell on Social Media:
Instagram
Facebook
LinkedIn
Twitter

Work with Darrell: www.darrellevans.net
This show is sponsored by The MindShift Podcast Store